How much is my 2002 XVII Commonwealth Games (Ireland) £2 coin worth?
The 2002 XVII Commonwealth Games (Ireland) design is the rarest £2 coin in circulation and has a value of 2 pounds, but collectors of coins currently pay £32.63

*

to own this coin.
Actual prices achieved with depend on the condition of the coin and the means of selling. All price and value information displayed is based on recent eBay sold prices for the items listed as Commonwealth Games Ireland £2 coin. Note: Prices gathered will most likely be for a circulated example of the coin. Uncirculated, BU (Brilliant Uncirculated) or Proof coins would be expected to achieve higher prices.
Coin Year
Entered Circulation
Active Circulation

*

2002
485,500
163,468
Change Checking Chances: When receiving a £2 coin in your change you have about a 1 in 2183 chance of finding this design.
Do you have one to sell?
: Recent sales of this coin on eBay achieved
£32.00
to
£33.31
based on a sample of 500 sold items, taking the mid price
*
and a 10% range of ordered prices. We recommend you read our
£2 Coins Value Guide
Additional information about this coin:
| | |
| --- | --- |
| Coin Name | 2002 XVII Commonwealth Games (Ireland) |
| Denomination | £2 |
| Details | Stylised figure of an athlete holding a banner and the inscription XVII Commonwealth Games 2002 |
| In Circulation | Yes |
| Edge Inscription | SPIRIT OF FRIENDSHIP,MANCHESTER 2002 |
| Design By: | Matthew Bonaccorsi |
Notes: Entered Circulation data from The Royal Mint website. *Active Circulation is an estimated figure based on an assumed year on year reduction in circulating coins.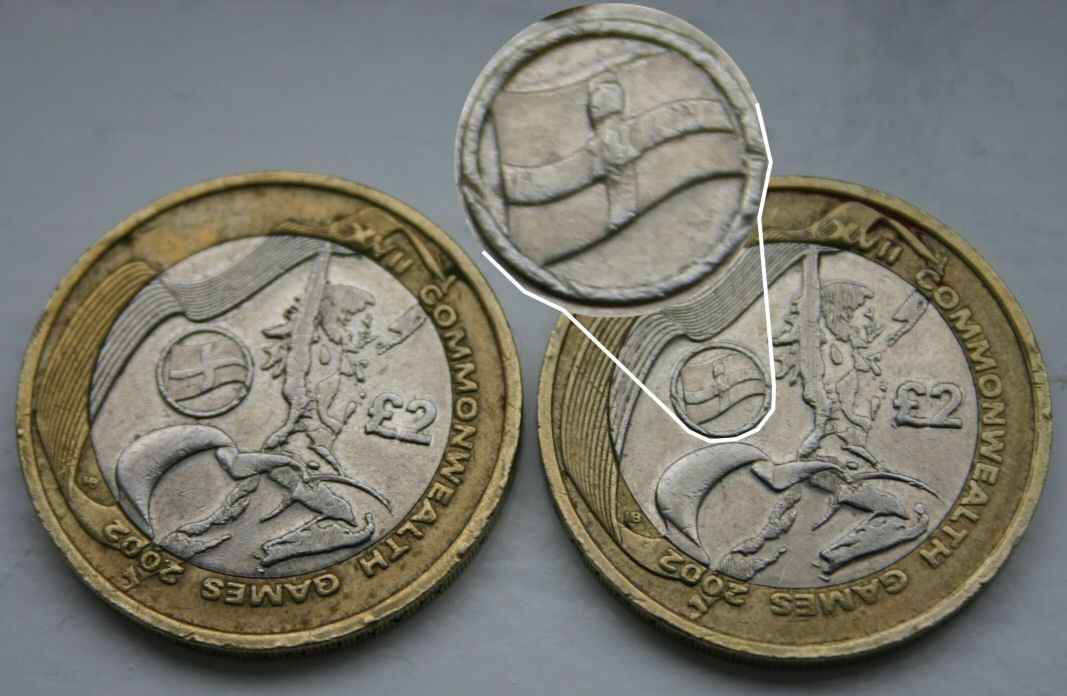 This coin is one of four in the set of XVII Commonwealth Games 2002 coins. The 4 coins look very similar, with the only difference being the small flag within the circle.
The England and Ireland coins can look the same as the flags are so similar, but on very close inspection (take a clear in focus photo and zoom in!) you can make out the star with the crown shape above it on the Ireland coin / flag.
2002 XVII Commonwealth Games £2 Coins @_CoinHunter Tweet