How much is my 2016 Great Fire of London £2 coin worth?
The 2016 Great Fire of London design is the thirtyfirst rarest £2 coin in circulation and has a value of 2 pounds, but collectors of coins currently pay £3.71

*

to own this coin.
Actual prices achieved with depend on the condition of the coin and the means of selling. All price and value information displayed is based on recent eBay sold prices for the items listed as Great Fire of London £2 coin. Note: Prices gathered will most likely be for a circulated example of the coin. Uncirculated, BU (Brilliant Uncirculated) or Proof coins would be expected to achieve higher prices.
Coin Year
Entered Circulation
Active Circulation

*

2016
5,135,000
3,594,500
Change Checking Chances: When receiving a £2 coin in your change you have about a 1 in 99 chance of finding this design.
Do you have one to sell?
: Recent sales of this coin on eBay achieved
£3.56
to
£3.87
based on a sample of 1300 sold items, taking the mid price
*
and a 10% range of ordered prices. We recommend you read our
£2 Coins Value Guide
Additional information about this coin:
| | |
| --- | --- |
| Coin Name | 2016 Great Fire of London |
| Denomination | £2 |
| Details | Marking the 350th Anniversary of the Great Fire of London |
| In Circulation | Yes |
| Edge Inscription | THE WHOLE CITY IN DREADFUL FLAMES |
| Design By: | Aaron West |
Notes: Entered Circulation data from The Royal Mint website. *Active Circulation is an estimated figure based on an assumed year on year reduction in circulating coins.
The Coin and The History: The Great Fire of London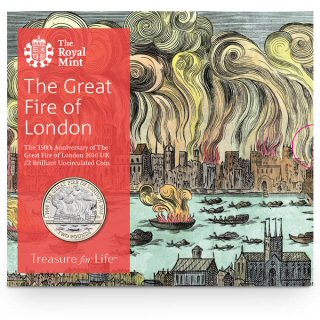 When? : The fire started on September 2nd 1666, by the 4th of September half of London was in flames. It was finally extinguished on the 6th September.
Where? : The source of the fire was a London bakery, Thomas Farriner's bakehouse located on Fish Yard, a small enclave off Pudding Lane near to near London Bridge. A monument was erected close to the point where the fire started and can be visited today.
Who? : Who started The Great Fire of London? That answer is we do not know, but Thomas Farriner was the owner of the bakehouse where the fire started.
How? : Again, how the fire started is also not known, but as there were bread ovens in the bakehouse, this would be a possible initial cause.
Why? : Many fires occurred in London, but why did this one take hold and destroy so much of London? It has been a hot summer so the wooden houses would have been very dry, there was also a strong east wind which meant the flames could easily spread from house to house as many of the homes were close together and nearly touched at the upper levels.
How many people died? : The common belief is that 6 people died, but reporting and records from this era may not have accounted for all those who died in the fire or as a result. The actual death toll would very likely be higher.
What was left of London after the fire? : About one fifth of London was still standing by the 6th of September 1666, with nearly all civic buildings lost and 13,000 homes destroyed. The fire was a disaster, but did lead to the creation of a new cleaner city with less disease.
What does the coin show? : The coin is a view from a boat on the river Thames, which shows other boats used to escape the fire and the flames and smoke rising high above the city skyline.