Page Notes: Entered Circulation data is from The Royal Mint website. *Active Circulation is an estimated figure based on an assumed year on year reduction in circulating coins. *Coin value is the mid point price based on eBay sold prices. Coin value range is based on a 10% range of ordered prices around the mid point.
The Coin and The History: Isambard Kingdom Brunel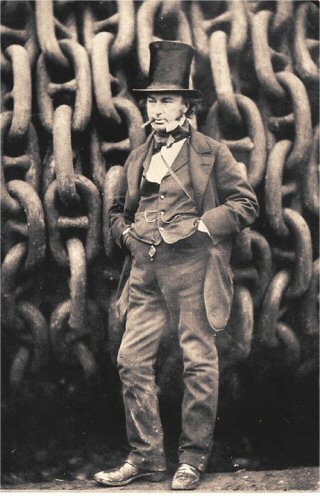 Isambard Kingdom Brunel was born on 9th April 1806 in Portsmouth. He lived during the Industrial Revolution and died of a stroke on 15th September 1859.
His father, Mark, was a French engineer who fled France during the revolution. On his return to England, Brunel began working for his father as an engineer.
Brunel designed bridges, tunnels, railways and several famous ships. Some of Brunel's works included:
Wharncliffe Viaduct - an eight-arched brick built railway viaduct running between Hanwell and Ealing.
Maidenhead Railway Bridge - at the time of building in 1838, this was the worlds widest and flattest brick arch bridge.
Bristol Temple Meads Station - at the time of opening, this station was the largest single-span building ever built.
Box Tunnel - at the time of construction, this 2,937m tunnel on the Great Western Railway line between Bath and Chippenham was the world's longest railway tunnel
Thames Tunnel - this tunnel was built between 1825 and 1843. It runs under the Thames and was the first tunnel to be built under any river. Originally it was used by pedestrians before being converted to a railway tunnel in 1869.
SS Great Western - launched in 1837, this was the first steamship to engage in transatlantic service.
SS Great Britain - this steamship was the first iron hulled transatlantic liner, and was launched from Bristol in 1843. She was abandoned in the Falkland Islands but was rescued in 1970 and taken to dry dock in Bristol where she was restored and currently remains as a tourist attraction.
Paddington Station - Although it has undergone changes, much of this structure has survived. Isambard Kingdom Brunel Paddington Station £2 coin
Royal Albert Bridge - this bridge, crossing the Tamar River at Saltash near Plymouth, was opened in 1859 by Prince Albert.
Clifton Suspension Bridge - although Brunel designed this bridge, it was not completed until 5 years after his death. This bridge is in Bristol and spans the river Avon.
Docks - Brunel was responsible for the redesign and construction of a number of Britain's major docks including Bristol, Monkwearmouth, Cardiff and Milford Haven.
What does the coin show? : The coin shows a portrait of Brunel wearing a top hat and smoking a cigar in front of the Royal Albert Bridge.